"Taking our quality journalism live, creating new ideas, exciting technologies and a world of possibilities"
Digital Vision for Scotland
Our Digital Vision for Scotland series keeps you connected and up-to-date with the latest public technology and innovation news, analysis and insight. Supported by our Strategic Partners, these virtual and live engagement events – consisting of conferences, half-day seminars, briefings and roundtable discussions – are remotely accessible from your office or home, providing a rich forum for professional networking, learning and discussion. For more information contact vincenzo@futurescot.com 
Communicate and develop meaningful relationship with our high-profile speakers and audiences while maximising your ROI and lead generating opportunities. For more information contact vincenzo@futurescot.com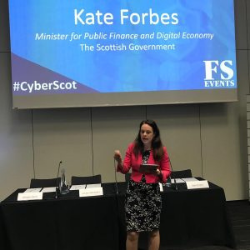 Influential public and private sector speakers are supported by high-profile contributors from UK and International arenas, creating an engaging forum for government, public and third sector attendees to discuss key issues in a focused and interactive environment.  
Working closely with the Scottish Government we are now established as having the leading forums for senior stakeholders engaged in the digital transformation of Scotland's public services, delivering economic recovery and meeting climate change targets. 
Excellent range of speakers and full on interesting, practical tips that I will use in my own work.
These are excellent and hearing front line experiences from people who have developed resilience in the industry is valuable, even to someone at my level.
The online platform you used was great. The host was very good.
I thought the speakers were excellent. It was very well pitched and there were lots of positive things to take away.
Your conference was very sophisticated. Impressed!
The overall production of the conference was of a very good standard.
DigitalScotand is a fabulous event and brings together people from all over Scotland. It connects different sectors of industry so that they can really talk about what matters and what we can do together to build Scotland's reputation as a digital nation. The event is a showcase for new ideas, digital products and services, helping them to get to market quicker, to really scale-up and make this a successful digital country.
Colin Cook
Digital Director, The Scottish Government
I would like to feedback how professionally managed this was. Great experience.
Anne-Marie Gallacher
Chief Information Officer, NHS 24
For me the biggest gain came from listening to where different justice organisations, speakers and suppliers are on their digital journeys, the challenges they have and the opportunities for policy change that can be achieved through digitally enabled transformation. A really well organised event that provided good networking opportunities.
Jim Wilson
Programme Manager, Justice Digital Strategy, Scottish Government
The Health & Care Conference was was very well run and expertly compered.
Steve Baguley FRCP
Consultant Sexual Health & HIV Physician, NHS Grampian
Futurescot Live Events can play a vital role in your marketing and business development plans.  Here are a selection of our past and present Commercial Partners