Defying the odds
Poppy Watson, December 16, 2021
8 min

read
Twenty-five women moving the needle in Scotland's digital technologies sector
The experience of women in tech has shifted significantly over the span of Carolyn Jameson's 30-year career in the sector. Companies are "more progressive", says the trust chief officer at Trustpilot, while the "alpha male attitude" that once dominated is largely a thing of the past.
It may feel like a "safer environment", but for a nation aiming to thrive in the digital world, has enough changed? Women remain strikingly under represented, making up just 20 per cent of digital roles in Scotland. It is a trend reflected in education. In 2020, girls made up 19 per cent of pupils studying computing science at National 5, Higher and Advanced Higher. This figure is echoed at a university level, with women accounting for 17.5 per cent of those pursuing computing degrees in 2021.
What can be done? Exposing young girls to same-sex role models allows them to see "the art of the possible", says Clare Wareing, chief executive and founder of biotech firm Cumulus Oncology. Silka Patel, founder of Women in Tech Scotland (SWiT), agrees. She also believes schools must "stop trying to do it all alone" and instead partner with organisations that can support their learning objectives and strengthen the talent pipeline.
Covid has highlighted females' lack of visibility in the tech workforce. "Women's voices are less
heard due to the virtual ways of working," Patel says. Now more than ever, organisations must consider how to "create a culture so that all contributions are heard and valued".
But the global pandemic has also accelerated the move towards flexible working, a policy Jameson and Patel argue should be offered as a mainstream option to encourage women – usually the primary caregivers – into the workplace.
Encouraging steps are being taken on a national level to diversify the sector. Not-for-profit dressCode is building a network of coding clubs across schools to close the computing science gender gap. Organisations including SWiT are offering free online courses to help women "transfer" into the tech industry or upskill. Meanwhile, angel syndicates such as Investing Women are on a mission to improve access to capital for female-led businesses – which raise only 13 per cent of all equity finance in Scotland.
With help from industry experts, Futurescot has profiled 25 women changing the face of Scotland's digital industry.
Sharon Moore
With a first-class degree in software engineering from Glasgow University, Sharon Moore has risen to the top of the UK tech industry. As chief technology officer for IBM UK's public sector division, she plays an instrumental role helping governments to shape their services around the citizen.
Kate Forbes
Taking on the digital brief as a junior minister, Scotland's finance secretary, Kate Forbes, has maintained an interest – and passion for – the tech sector, helping to shape the national digital strategy. She commissioned the influential Logan Review and promotes digital more widely across other government portfolio areas.
Jude McCorry
Helping the Scottish Government rise to the growing challenge of cybercrime is Jude McCorry, who
was named chief executive of the Scottish Business Resilience Centre last year. Ireland-born McCorry has more than 20 years' experience in the technology sector and was previously director of business development at the Data Lab, where she worked with industry and academia to maximise the value of data for Scotland.
Toni Scullion
The brains behind numerous initiatives to "save computing science", this year saw Toni Scullion found
the Digital Technology Education Charter – a national movement that aims to drive change in the school subject across Scotland. The inspiring teacher is also the creator of dressCode, a not-for-profit designed to close the gender gap in computing science.
Katie Milligan
Overseeing the contract for the Scottish Government's flagship Reaching 100% scheme, Katie Milligan has played a vital role in ensuring Scots stay connected during the pandemic. Taking on the role of Scotland chair in March this year, the Strathclyde Business School graduate also remains Openreach's managing director, customer, commercial and propositions, heading up its £5bn portfolio of products and services
Lesley Eccles
Fanduel co-founder, Lesley Eccles, played a pivotal role in securing "unicorn" status for the fantasy games company – one of Scotland's first businesses to reach a valuation of $1bn. The serial entrepreneur is currently working on her third startup.
Caroline Lamb
NHS Scotland chief executive, Caroline Lamb – former director of digital reform and service engagement in the health and social care directorates at the Scottish Government – is keen to lead Scotland's largest public sector organisation through a tech transformation.
Gillian Docherty
As chairman of the Scottish AI Alliance, Gillian Docherty is playing a crucial role in Scotland's journey to becoming a global leader in data and artificial intelligence. The chief executive of the Data Lab is set to take on the role of chief commercial officer at Strathclyde University next year.
Margaret Moore
Passionate about improving public services and driving citizen-centric solutions underpinned by digital innovation, Margaret Moore leads a team of experts across the country in her role as director of citizen and devolved government services at Sopra Steria UK.
Karen Meechan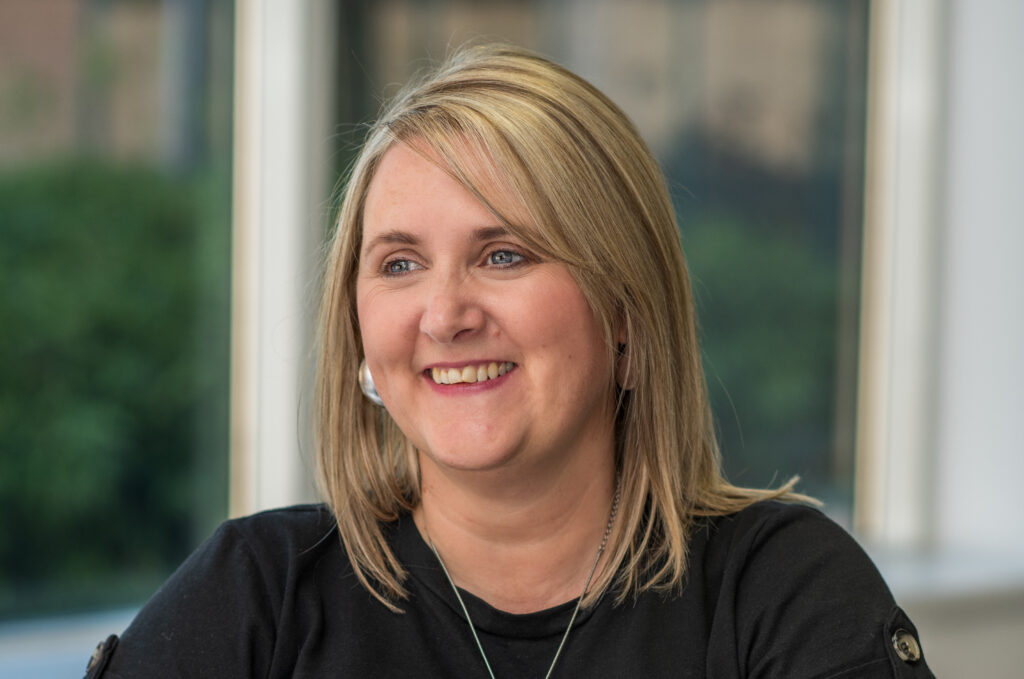 Having served in various roles at tech trade body ScotlandIS for more than 17 years, Karen Meechan has
worked her way to the top – appointed chief executive this year. A champion for the digital technology industry, she has played a crucial role in numerous programmes, partnerships and funding opportunities within the organisation.
Melinda Matthews-Clarkson
As the chief executive of Scotland's digital skills academy CodeClan, Melinda Matthews-Clarkson – who "jumps at any opportunity to inspire and mentor women" – is nurturing the growing digital sector by supporting and encouraging individuals into the world of software development and data science.
Nicola Anderson
Responsible for the first consumer panel in Europe designed to support inclusive fintech business development, FinTech Scotland's chief executive, Nicola Anderson, is an experienced corporate leader and supporter of innovation in financial services.
Julie Snell
Having written the business strategy for what became BT's public wifi network, Julie Snell has a led an impressive 30-year career in telecoms. Now chair of the Scotland 5G Centre, she helps enable broadband across the country, including its most remote communities.
Claire Gillespie
As digital technologies sector skills manager for Scotland at Skills Development Scotland, Claire Gillespie has worked closely with industry to develop Digital World – a platform to inspire young people into tech and promote digital as a career choice.
Sarah Eynon
Scottish Futures Trust associate director, Sarah Eynon, is behind one of its key programmes, Infralink – a first-of-its-kind national initiative propelling next generation mobile connectivity across the country.
Vicky Brock
Serial entrepreneur and Women's Enterprise ambassador, Vicky Brock, co-founded her fifth tech company, Vistalworks, in 2019. The cutting-edge intelligence software uses data to protect consumers from illicit online trade.
Leah Hutcheon
Leah Hutcheon, founder and chief executive of the hugely successful online booking and smart scheduling software for businesses Appointedd, has seen a surge in its users and international reach during the pandemic.
Louise Smith
Former chief digital officer at Lloyd's and chairman of the board at Innovate Finance, a not-for-profit industry body representing the UK's global FinTech community, Louise Smith is passionate about making financial services more accessible and inclusive.
Carolyn Jameson
Spearheading the creation of Trustpilot's R&D and Innovation Hub in Edinburgh is the company's chief
trust officer – and former Skyscanner executive – Carolyn Jameson. The £1.8m facility is designed to
develop world-leading solutions to tackle behaviour that threatens trust online.
Margaret Totten
Working closely with the likes of Microsoft, Cisco and Dell, chief executive and co-founder of Akari Solutions, Margaret Totten, believes in digital inclusivity. Her company – a Microsoft Gold Partner – offers automation services and assistive technology in Azure as well as Teams.
Eve Wallace
As executive director: chief administration officer of Technology Glasgow at Morgan Stanley, Eve Wallace, is responsible for ensuring that the 1,400-strong office is operating effectively to meet strategic plans.
Silka Patel
With 20 years' experience working in technology organisations, Silka Patel is the founder of SWiT – an influential network of leading female technologists which aims to close the skills gap for women working in Scotland's technology sector.
Amanda Pickford
Tech entrepreneur, Amanda Pickford, is the founder of revolutionary thermal image analysis software ThermaFY, which aims to improve the efficiency of home heating systems and has won consistent backing from Microsoft.
Clare Wareing
With a PhD in cancer cell biology from Edinburgh University, Clare Wareing has gone on to found two successful life sciences companies. Nexus Oncology was bought by USbased Ockham in 2012 and Cumulus Oncology is the first oncology drug development accelerator in Europe.
Michelle Hawkins
Managing director for Accenture Scotland, Michelle Hawkins, has 25 years' experience in delivering large-scale technology and transformational change programmes with clients across a variety of industry sectors.
Related posts