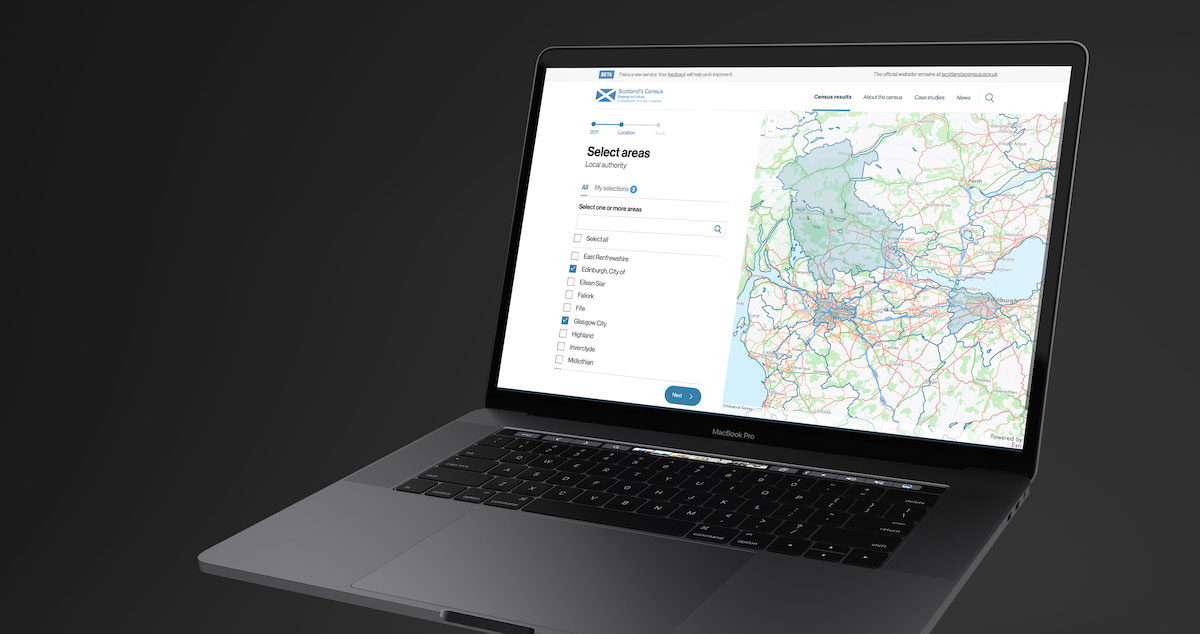 National Records of Scotland will introduce an online option in the delayed audit of the population
Scotland's delayed census will be carried out in March "primarily digitally" for the first time.

People are being encouraged to carry out the once-a-decade survey of households online, as National
Records of Scotland (NRS) moves further into its digital transformation process.

They will be sent letters in the normal way inviting them to participate in the census, which has taken place every 10 years since 1801, except 1941, but to reply via a bespoke website.

That portal has been created by NRS supplier, CACI, which was awarded the £7.5m contract in 2018
and will provide both online data collection and operational management systems.

Also for the first time, NRS will use Royal Mail to deliver the census questionnaire packs, which it says
is "cheaper and more efficient" than hand delivery by its team. People will be allowed to opt out of the "digital first" approach and return their forms by post, but the NRS is expecting a high take up for the online method, which will use a unique access code.

With Royal Mail contracted to deliver the census forms to 2.7 million households and the digital approach, it means there will be less contact between NRS officials and the public.

The letter will include instructions for completing the census, information about the census, where to get support, including requesting a paper questionnaire. Before the end of March, NRS will also send a
postcard to all households reminding them to complete the census.

The new approach comes at a time of scrutiny for the agency. Audit Scotland – the regulator for
public sector bodies – highlighted concerns last month that there have been "considerable challenges" in delivering the delayed census.

It said "careful management" is needed to ensure its successful delivery. In July 2020, Scottish ministers decided to delay the census from March 2021 to March 2022 due to the pandemic. This had a significant financial impact on the NRS, the public body responsible for planning and running the census in Scotland.

Overall costs have increased by £21.6m (18 per cent) over the lifetime of the programme, against the
pre-pandemic estimate of £117m. The Scottish Government has provided funding to cover the increase.

The census is a complex programme and one of the Scottish Government's biggest current ICT projects. NRS has acted to improve the management of the programme but has faced considerable challenges,
including the impact of the pandemic on programme costs and difficulties recruiting suitably qualified staff.

Stephen Boyle, Auditor General for Scotland, said: "The Covid-19 pandemic significantly impacted NRS's plans for running Scotland's census, resulting in ministers' decision to delay by a year.

"The census programme began to face challenges in 2018. NRS took steps to strengthen the programme
and is now in a better position to deliver the census successfully in March 2022.

"It is crucial that NRS continues to monitor and manage ongoing risks to deliver the census, which is
a key source of information to help the public sector plan services and funding."

Paul Lowe, registrar general and chief executive of NRS, said: "Additional costs were incurred as a result of the delay and it is right that the public are made aware of the full impact of the pandemic.

"The report confirms that NRS is taking appropriate action to manage the challenges associated with a programme of this scale and complexity and that we are in a strong position to deliver a successful
census next year."
Related posts