Scotland's connectivity will benefit from the investment and innovation which is unlocking the power of full fibre builds, subsea cables and satellites
According to the latest Ofcom figures, the rate of increase in speeds for broadband services in Scotland have been nothing short of remarkable. Over the last five years, coverage for full fibre connectivity has climbed from 0.2 per cent of the population to 23 per cent, with gigabit capable services rising from 0.2 per cent to 47 per cent.
As network infrastructure providers bring more fibre into their build programmes across the country, in line with government targets, those data points are only going one way as demand for high-speed internet accelerates, particularly since the onset of Covid-19 and a pivot to home working.
The picture for mobile connectivity is a similar one. Ofcom's Connected Nations Summer 2021 report revealed coverage for a 4G signal now reaches 96 per cent of premises compared to 76 per cent in 2016, and when it comes to "geographic coverage", for some of the "notspots" across the country, all four mobile network operators now reach at least 44 per cent of locations, rising from 12 per cent five years ago.
Although it seems slow by today's standards, it is expected "superfast" coverage for broadband, which amounts to internet speeds higher than 30 megabytes per second, will climb from their current level of 94 per cent in Scotland to 100 per cent by the end of the year.
And the Reaching 100% (R100) programme, which is delivered by Openreach on behalf of the Scottish Government, is increasingly seeing fibre being used as part of the build programme to reach some of the harder-to-get-to areas of the country.
The investment of £384m through the R100 programme saw the commencement of full fibre builds in September around Oban in Argyll, and Portlethen and Newtonhill in Aberdeenshire. And the R100 North contract is set to deliver full fibre broadband capable of one gigabit per second
download speeds, more than 30 times faster than the original commitment to deliver 30 megabits per second.
In addition, more than 220km of subsea cables will ensure 15 more islands across Argyll and Bute,
Highlands, Shetland and Orkney are connected to fast and reliable broadband, with the R100 programme so far enabling more than 3,400 additional premises to access superfast broadband.
Robbie McGhee, deputy director, digital connectivity, Scottish Government, explains: "We're making really good progress and the numbers are starting to ramp in terms of delivery.
"All three programmes [of R100] are in build and obviously we've not changed the commitment, in that it was always going to be 100 per cent superfast by the end of this year, but we're also going to be delivering full fibre over quite a lengthy period going beyond that, out to 2026.
"So, people will start feeling the impact of that this year and next year, and we're going to be doing big volumes as we build up to the final phases.
"We've also got 16 new subsea cables that are taking connectivity to some really rural places among the island communities, and we're working with Openreach and those communities to get as holistic a solution across the islands as possible, so that we see those service improvement levels and the digital transformation that they enable."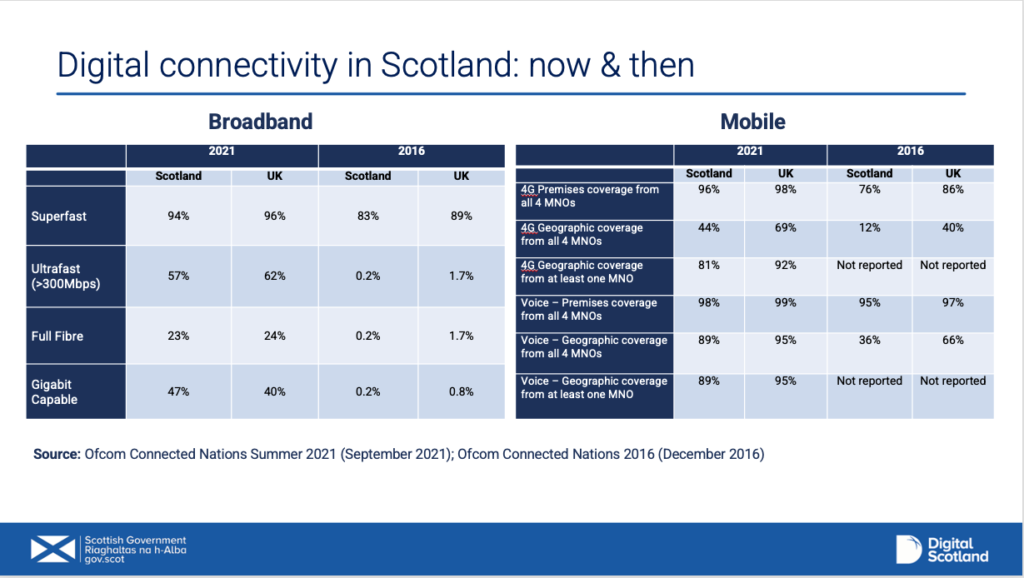 For anyone who cannot access superfast broadband, there is still the Scottish Broadband Voucher Scheme, which enables people to apply for up to £5,500 – on top of money available from the UK Government scheme – for last-mile hop connectivity, based on fixed broadband and possibly even satellite internet connections.
Low and medium earth orbit satellite connectivity, in particular, has been an interesting development. Not only has Elon Musk's company, Starlink, disrupted the sector but other entrants to the market, including OneWeb and Mangata are now active in Scotland.
While early operators suffered from inconsistency and unreliability of service, there is a slow gathering of momentum that has seen some providers offering in excess of gigabit speeds. "One of the things that's quite significant is that the amount of throughput that's going to be available from these low earth orbit satellites is going to enable it to be used as a really reliable backhaul technology," says McGhee.
"That's potentially the thing that will make deployment cheaper across a number of different areas across rural Scotland whether that's traditional telecoms services, or whether it's more in the space of internet of things and sensors, and the movement of data."
At Cop26, McGhee also got a feel for how telecoms equipment providers are advancing the technology of chips and infrastructure that underpin the services.
A demonstration from Ericsson illustrated how smart factories of the future will be driven by connectivity and data.
The Scotland 5G Centre, which has been set up by government, is increasingly working in this space with industry and academia on use cases and research and development.
More widely, there is now a feeling that the connectivity landscape is maturing with the likes of CityFibre and its full fibre network, Virgin Media upgrading its Docsis network and Axion, a French-based supplier, moving into the market in Scotland.
That is driving competition and also supporting innovation, particularly around the requirement to build sustainable telecoms infrastructure.
"There's really two aspects to net zero," says McGhee. "There's the energy consumption on one
side, which all the operators are concerned with trying to reduce, and there's some really interesting innovation we'd like to be part of around the chips in networks that could quite considerably reduce power consumption.
"But also there's the whole-system view because when you track the impact of digitalisation in business and industry, we're seeing the potential environmental benefits of those big heavy industries transitioning to digitalisation."
McGhee also mentions the recent efforts of the Host in Scotland programme – part of Scottish Futures Trust – to attract investment in green data centres, and some of the benefits that will accrue from reducing the impact of the energy intensive handling of data.
"At the heart of this question is data," he says. "Because data is going to keep growing and growing, so I think the conversations we have, have reflected that and there are some good examples of excess heat coming back into agricultural projects, and so on, that are starting to come to fruition.
"We're also seeing this recognised in some of the big deployments that are happening, which is a very positive sign."
For McGhee, it is a combination of the proliferation of "alt-net" suppliers, the advent of 6G and the
innovation that is happening in the sector that is exciting for the future.
"At one time our locus was pure infrastructure and we talked mainly in terms of broadband coverage, percentage targets and rollout.
"We still do that but another really emerging part has been around digitalisation and how businesses are using it, what take-up is like, what services are running on top of it and how we can push that innovation. I think that's the exciting bit about the impact it's going to have in all our lives over the next 10 to 20 years."
Related posts