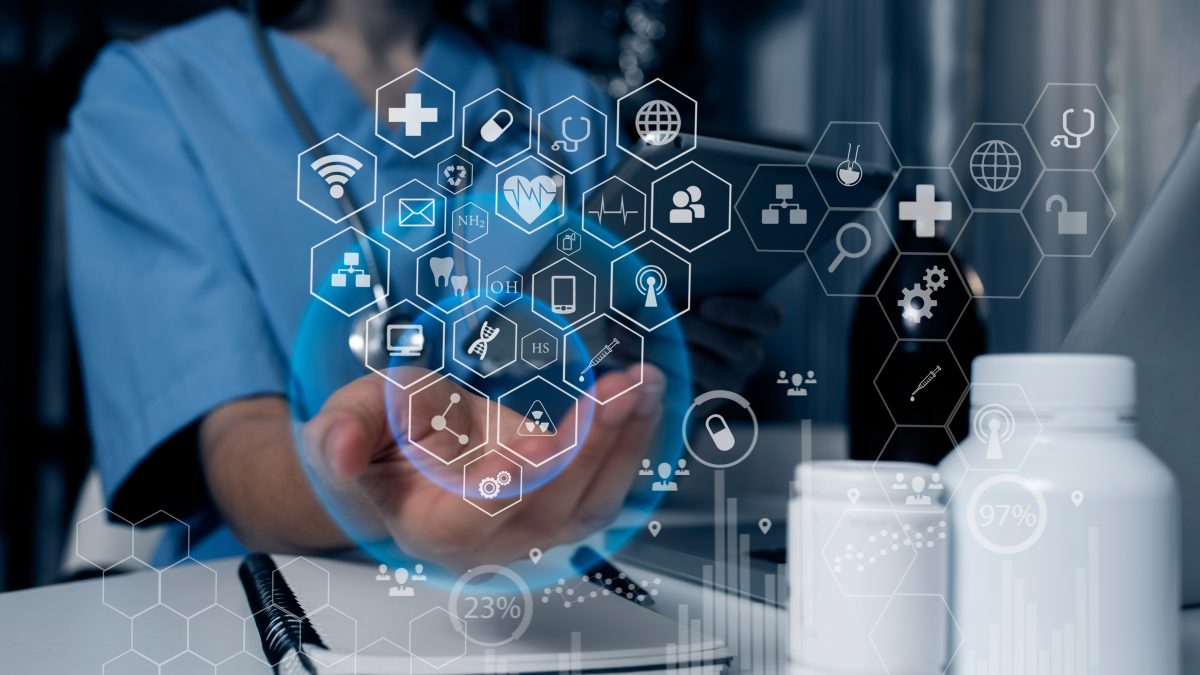 In recent years, innovation has been considered one of the key enablers for healthcare improvement, underlining its importance to the NHS Recovery Plan, and enhancing the healthcare system's capacity now that the worst of the pandemic is hopefully behind us.
Of course, the primary focus is on driving the recovery of the NHS, not just to its pre-pandemic level but beyond, by planning for a more resourceful future backed by targeted investment that will help to deliver reform and ensure patients receive the care they need as quickly as possible.
Yet, there are a few key areas that healthcare specialists are increasingly turning their attention to due to their transformative nature and significant impact on improving the health of the nation. At the same time, they could potentially save the NHS both time and resources.
Remote monitoring and virtual GP visits may well become the norm
Remote healthcare and telemedicine – the delivery of healthcare services through utilisation of computer communication technologies such as computers, phones, cameras, etc.
It has been the main scope of development for the NHS since the pandemic posed significant challenges for health specialists performing their duties. Indeed, with COVID spreading, the percentage of virtual visits and telephone appointments in the UK skyrocketed.
A study in the Journal of Medical Internet Research found that in Scotland, by the time the pandemic hit, there had already been considerable investment in video consultation services. Indeed, the country was "uniquely well placed" to expand them "at pace and scale," and from March to June 2020, video consultations increased in number from about 330 to 17,000 per week across the country.
NHS Scotland's Near Me video service is now thought to be used around 20,000 times per week and is expected to be further rolled out across a wide range of public services.
Telemedicine and remote healthcare, backed by continued Government investment in Scotland-wide coverage of 4G and 5G technology, can undoubtedly prove important tools to provide reassuring and responsive help to people remotely, enhancing recovery rates, diagnosis, and response rates.
2. Digitisation will place a greater emphasis on preventative medicine
Progress in mobile technology and greater accessibility to health tech has made patients more proactive and aware of their personal health. Nowadays, people are regularly checking health statistics on their well-being apps – whether on smart phones or wearable devices – a process that could potentially detect and highlight risk factors to bring to the attention of their GPs.
According to a study by GreenCall, 93 per cent of doctors believe that health apps can improve patients' health. Embracing such a proactive approach is undoubtedly shifting the focus of the healthcare industry toward preventative medicine. Having access to such information can allow health specialists to address problems early and swiftly and ensure that patients' needs are being met.
3. Artificial intelligence will transform how we make sense of information
The increase in health markers and more joined-up information has enabled the sector to start harnessing the full potential of artificial intelligence (AI) and machine learning (ML). Making sense of complex, unstructured medical information usually proves a challenging task.
However, with the help of sophisticated algorithms, an array of X-Ray images, MRI, and CT scans, and other types of information, a comprehensive nationwide and personal picture can be built and then analysed accurately. Initial analyses could serve as early indicators, predicting new developments and increasing efficiency.
Furthermore, a recently conducted GSR Ventures survey indicates that about half of all investors believe that technology, which addresses workforce challenges will be a key focus of the sector next year. This could have significant application for NHS backlogs with AI, supplemented by human expertise, able to potentially identify the most urgent cases.
Research and Markets meanwhile predicts that by 2027, the AI healthcare sector could grow to a value of £55.19bn, highlighting the widespread belief that this area of innovation is not just hype but a real opportunity to transform healthcare.
Unquestionably, many such innovation trends are already integrated into healthcare in one form or another. However, their further development is expected to entirely change the direction of the sector, accelerating more digital-driven healthcare with a greater emphasis on prevention rather than reactive medicine.
Whether it is just one or all of those trends becoming an active part of the field in 2023, the NHS will need to make some vital long-term decisions regarding the development of a more progressive, responsive, and sustainable health and social care system. The extent and speed of the response could determine how well-prepared we will be for the future.
To ensure the prospective success of healthcare innovation, the sector needs to address the challenges that Scottish innovators face while providing them with the right support and tools to create a more efficient, innovation-led healthcare system that still places human expertise and interaction first, ultimately leading to better patient outcomes.
Everyday innovation in 2023
Not all innovations are part of complex and transformational healthcare trends – some can be straightforward thoughts that are not overly complex. Simple ideas can make a significant impact too, providing solutions to everyday issues or challenges that can then be shared with others for incremental improvement in healthcare delivery across the NHS. It might be, for instance, taking two existing devices and putting them together to form something entirely new with a wider application. One idea can inspire another, in turn delivering more for less.
Helping to draw out and encourage the forward-thinkers, NHS Scotland partner, InnoScot Health, remains a welcoming open door to all NHS staff with innovative ideas, providing expertise in idea evaluation, intellectual property, medical device regulation, funding and investment, development, and commercialisation.
We want to be part of the conversation for 2023 on what is required both in the short and longer-term, and we welcome innovators from all walks of life to drive change and support a healthcare system that benefits all.
Related posts