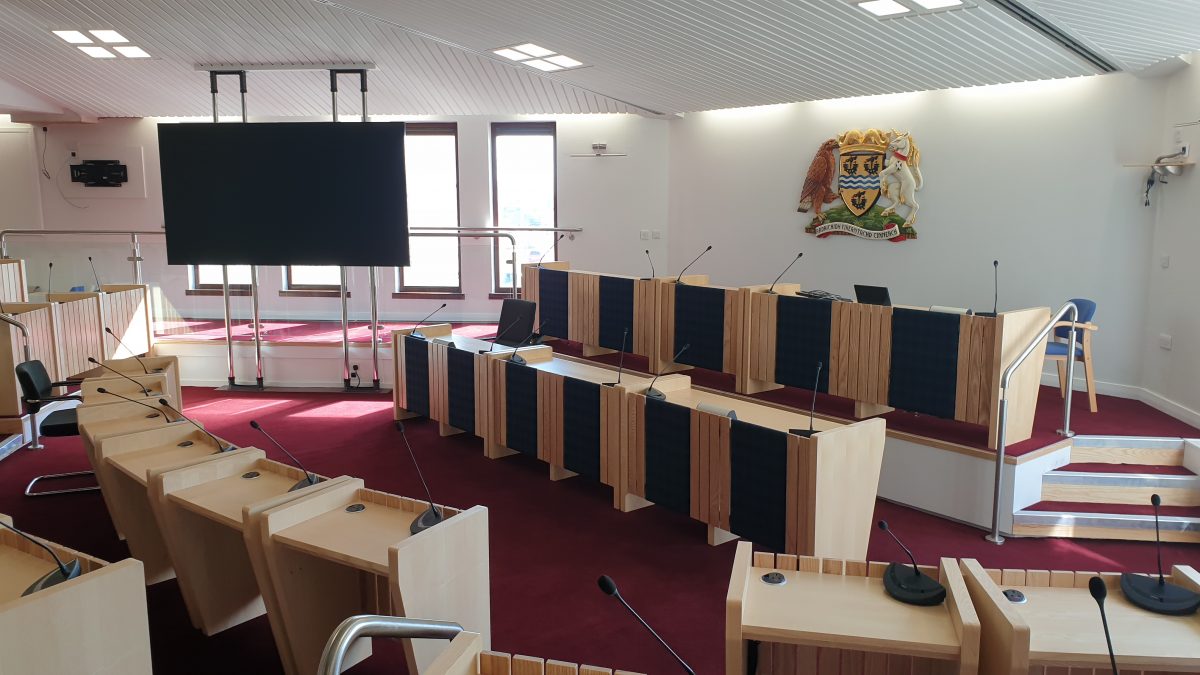 New £90,000 state-of-the-art IT systems have been installed in a Stornoway council chamber by communications software and visual aid companies.
Ajenta and MediaScape, who provide video and audio communication software and systems, have kitted out the historic Comhairle Chamber as part of wider improvements to conferencing facilities across the Scottish islands totalling £268,000.
Any Comhairle nan Eilean Siar (Western Isles Council) site with meeting rooms which consisted of a display, videoconferencing kit and laptop, qualified for the upgrade in IT equipment.
The new systems allow for the live broadcasting of committee meetings over the public internet and have improved communications across the islands.
New LED screens will improve the presentation experience, while an upgrade of videoconferencing facilities across several Comhairle sites will allow for an enhanced remote attendance experience, which will reduce travel requirements.
The Comhairle Chamber has also been refurbished and redecorated. It now provides a "functional workspace" with new furnishings which incorporate the commemorative Iolaire Tweed into the design.
The lolaire tweed was designed by Harris Tweed to mark the centenary of the lolaire disaster, which killed 201 sailors returning from war. On 1 January 1919, naval yacht HMY Iolaire hit rocks as it approached Stornoway and sank.
A Comhairle nan Eilean Siar spokesperson said: "The chamber was not built for modern working methods, and the addition of projection equipment and videoconferencing facilities over past years did not provide confidence in being able to provide an effective experience for those wishing to attend remotely. Indeed, even for those present in the chamber, the presentation experience was not always successful.
"The décor has been freshened to complete the refurbishment and provide an environment that will be suitable for many more councils to come. The furniture in the Comhairle Chamber dated back to when the building was originally constructed in the late 1970s. The seating was becoming tattered and insecure and the desking unsuitable for modern working methods. On lifting the carpet, which was becoming frayed in places, the extent of remedial works required to the floor became more evident to the extent that a full replacement was required."
The desking was provided by Harvey McLean Ltd at a cost of £37,000, the construction works were undertaken by Lewis Builders Ltd at a cost of £112,000, and the final element of the works are the chairs which have been supplied locally by Mackenzie Holdings Ltd at a cost of £16,000.
The Comhairle gave thanks to the suppliers and contractors for "the professional manner in which the works were undertaken and for the end products which will improve communications across the Islands and aid in effective representation and local democracy."
Related posts